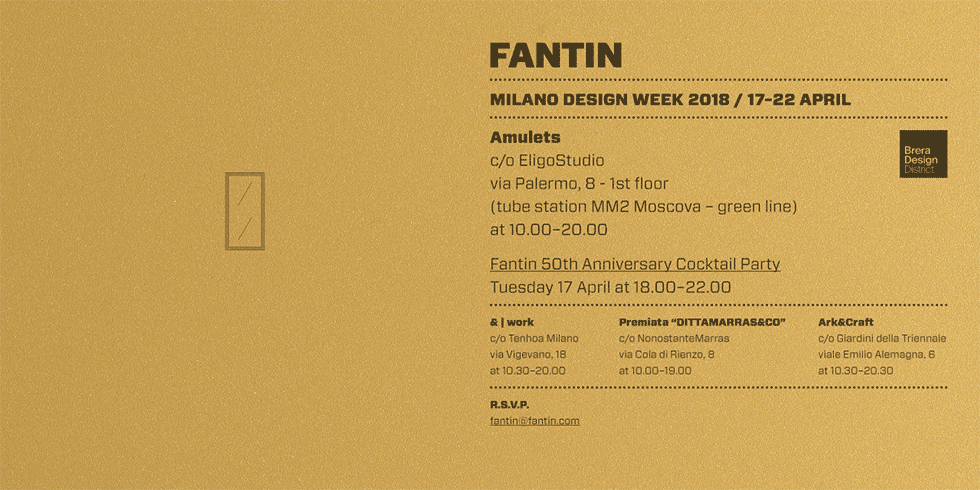 Milano Design Week 2018
Amulets
In the year of its 50th anniversary, Fantin is presenting its new FRAME collection of designer furniture, which was conceived by Salvatore Indriolo. During Milan Design Week 2018, it will be on display at 8 Via Palermo, in a site-specific installation entitled AMULETS by EligoStudio for Fantin.
The key element at the heart of the project is revealed by the name of the installation: AMULETS stems from the anagram AMLET = METAL and the latter material is the real star of the show.
FRAME makes the most of the highly specialized know-how with a minimal design whose light lines and structural solidity are found throughout the modules that make up the range.
A breathtaking selection of 40 colours ranging from neutral tones to brighter hues lights up the collection and offers numerous aesthetic solutions.
The range fuses stylistic simplicity with flexibility to provide the scope for tailor-made creations. It includes cupboards of various sizes, tables and a kitchen workstation that is available both without accessories and with a sink, an induction hob and a Barazza oven. On request, customers can choose to add another appliance to suit their individual needs.
Spazio Fantin Milano
c/o Eligo Studio
via Palermo, 8 – floor 1
(metro MM2 Moscova)
h 10.00–20.00
Milano Design Week
April 17–22, 2018